Changing the Perception of Homelessness Through Music

Looking for volunteers & board members

giv4 Category: Systems Change

Contact for more information:
What makes your organization unique in its approach to addressing homelessness?
We use the healing power of music to change both the experience and the perception of homelessness. Choir members gain hope and pride as they see their talents emerge and be appreciated, and our audiences see people experiencing homelessness in a new and different light.
We are also unique as we offer a voluntary, welcoming experience of happiness, connection, and action. Some programs for people experiencing homelessness are structured in such a way that participants feel like passive recipients. We are the opposite!
---
What is a misconception you think the public has about homelessness?
Many people think that homelessness is unsolvable, and that those experiencing homelessness don't want help. Almost all those living unsheltered desperately want homes, but the help that is offered is not meeting their needs. And often they do feel isolated rather than feeling the sense of community we all need. It will require a truly substantial investment in affordable housing to rebuild communities and offer the supportive services our society needs.
---
Watch Voices of Our City Choir's appearance on America's Got Talent: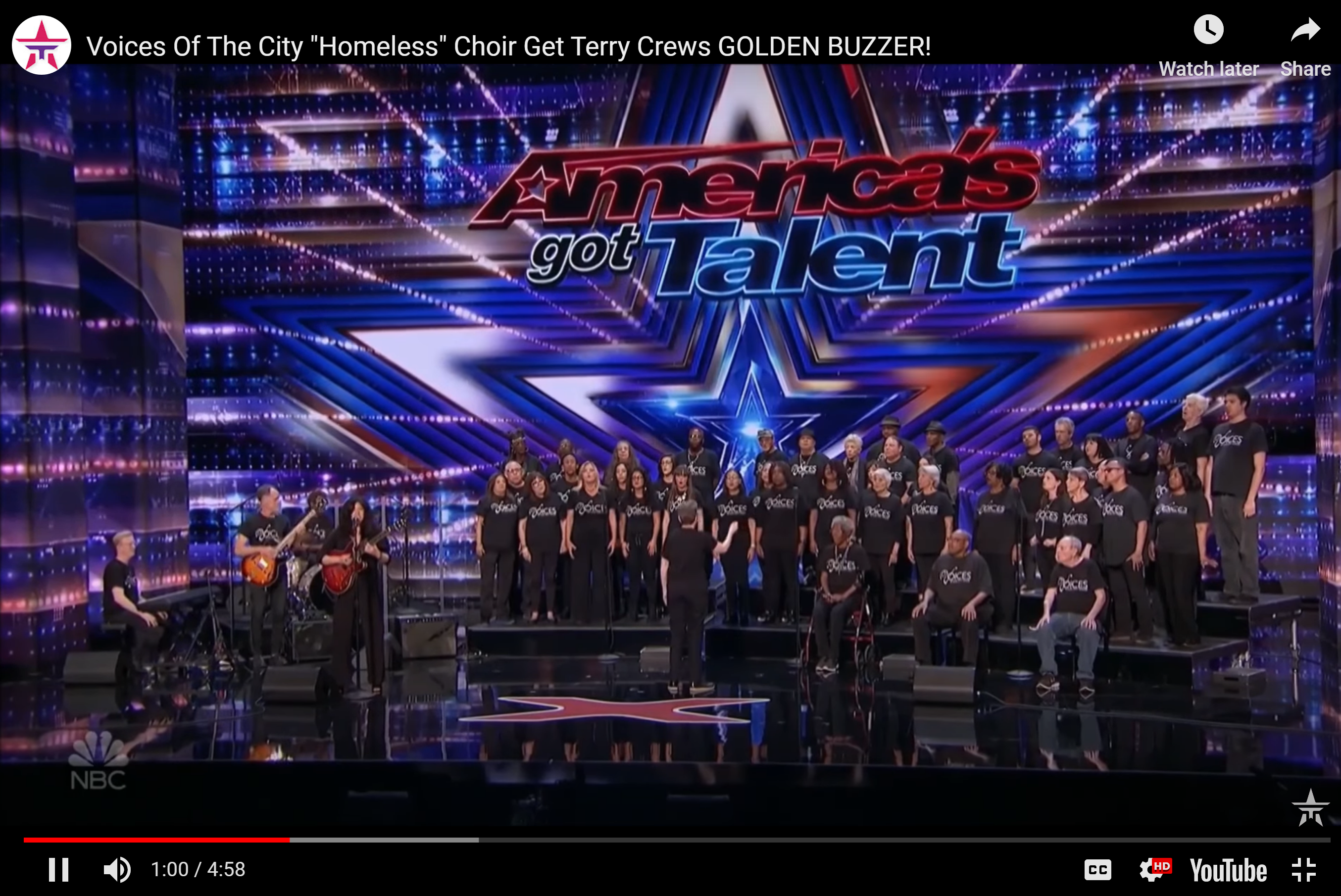 When was the organization founded?
Voices of Our City Choir was founded in 2016 by Steph Johnson and the late Nina Deering. Steph engaged with people living on the street near her home, bringing water and talking. She found that many people she spoke to had been former musicians, had sung in church, or simply enjoyed music.
The power of music had helped transform Steph's life, from a bank employee to an award-winning jazz musician and singer. She believed it could do the same for those living on the streets. Some of our earliest choir members have now become staff and leaders in the organization, using their lived experience of homelessness to connect with new members and work for systemic change.
---
You are part of the "systems change" giv4 homelessness category. Can you explain more what work your organization does in this area?
One of our major goals is to change the perception of the people experiencing homelessness. Helping the general public relate to, and see the humanity in, those experiencing homelessness is fundamental to changing the entire public approach to the affordable housing crisis. In addition to Choir Performances and Rehearsals, we have an Advocacy Team, who share their experiences with elected bodies and advocate for change in policies and structures that cause homelessness.
---
Is your organization looking for volunteers? Are you looking for committee/board members with particular skill sets? Do you need in-kind donations of any sort?
Yes! We need volunteers to help with our weekly rehearsals as well as daily food distribution and device charging. We are also hoping to expand our Board, particularly with people who have financial experience, understanding and experience with mental health services, and lived experience of homelessness.
---
Has your organization been featured in the media recently?
Watch our appearance on America's Got Talent. (Read the related San Diego Union Tribune story here.)
KPBS: Homeless Choir Finds Healing Through Music.
San Diego Magazine: How a Choir Group Turned Non-Profit Is Helping Unsheltered San Diegans Find Hope
I would love to learn more directly from Voices of our City Choir