Environmental Health Coalition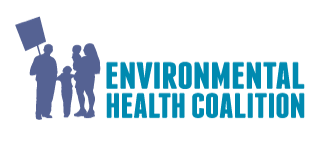 giv4 Category: Advocacy/Justice Impact

Contact for more information:
EHC is a grassroots, environmental justice organization working on the frontlines of the climate crisis. We stand behind the environmental justice principle that "communities must speak for themselves." EHC strives to empower the most underserved residents with the tools to influence change; our role is to uplift these voices.
---
What makes your organization unique in its approach to addressing climate change?
EHC intentionally sites its work in the San Diego communities of Barrio Logan and National City. In these target neighborhoods, residents are surrounded by air pollution from port terminals, shipyards, freeways, chrome plating and autobody shops, resulting in stark cancer impacts and respiratory health risks. Discriminatory land use, poor regulatory enforcement, and inadequate infrastructure worsen these environmental injustices and resulting health concerns.
Our strength lies entirely in the residents of our target neighborhoods; the people of Barrio Logan and National City are the reason for our success. Our key approach is harnessing the power of residents on the frontlines of the climate crisis, through leadership development programs, ongoing trainings, and community organizing. Residents identify the needs of their communities, propose solutions, meet with decision-makers, and hold decision-makers accountable. EHC advocates for transparent decision-making from elected officials and government agencies; we work to ensure that decision-making entities offer interpretation/translation, public input opportunities, facilitation, and that they schedule and structure meetings to allow working parents to participate.
---
How do climate/environmental changes affect the San Diego region specifically? How can people in San Diego become a part of local solutions?
San Diego has the seventh-worst ozone pollution in the U.S, and low-income communities of color are disproportionately impacted. Portside communities in San Diego endure systemic environmental injustices and their subsequent pollution. To improve air quality in historically marginalized communities, EHC works alongside residents to develop and implement policy solutions and community plans that protect neighborhood health.
EHC works to benefit the frontline portside communities in two critical ways: by amplifying resident voices and by improving air quality in their neighborhoods. Success will be celebrated when historically marginalized communities have a seat at the decision making table, altering the policies that pollute their neighborhoods.
---
When was the organization founded?
EHC was founded in 1980 with a focus on the impact of toxic pollution on health and the physical environment. The focus soon sharpened to concentrate on the disproportionate impact of pollution on low-income people of color. EHC has worked in the Barrio Logan neighborhood since the 1980s and in National City since the early 1990s. Since our founding, our leadership development efforts have resulted in almost 3,000 community residents empowered to identify solutions to environmental problems.
---
Are there any recent news articles/publications/videos by or about your organization that you'd like to highlight?
---
We want to ensure giv4 climate has geographic and socioeconomic diversity/representation. Where do you operate in the SD region (e.g. East County, Imperial County, border region, coast, etc.,)? Are there particular communities that your work supports?
We focus our work in Barrio Logan and National City; our transit work is county-wide.
I would love to learn more directly from Environmental Health Coalition